What Makes This Challenge Different?
There's over 8,000 books on the benefits of waking up early yet none of them actually make it easy to wake up early.
The truth is, waking up early has nothing to do with willpower.
This challenge will give you both the tools and the knowledge you need to effortlessly wake up early.
The Tool: Wake Sympl, an all-natural awakening nootropic drink you make the night before and drink first thing upon waking to wake instantly.
The Knowledge: The Perfect Morning Routine course, gives you the step-by-step formula to building the perfect morning routine that actually helps you reach your goals.
Each lesson is only 5 minutes, so no matter how hectic your lifestyle is, you won't fall behind!
Hear Why Everyone Loves Wake Sympl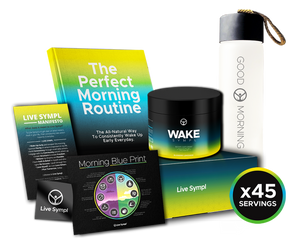 ⭐️⭐️⭐️⭐️⭐️
"I love two things about this product. The first one is that it works! No jitters and I'm immediately awake to begin my morning ritual. The second is I get to plan my morning the night before by getting my wake sympl drink ready for the morning."
-Brian R. CEO & Founder of Enstigate
⭐️⭐️⭐️⭐️⭐️
"This product works. Plain and simple. It's a nice welcome change from coffee which would make me jittery and lead to a midday crash. It's completely changed how I wake up in the morning. I drink a little in the morning and it keeps me going all day I don't have that mid day crash."
Monica M. Financial Analyst
⭐️⭐️⭐️⭐️⭐️
"I was pleasantly surprised by the taste and effectiveness of this product."
-Sam S. Gastroenterologist
Join the Live Sympl Movement #DreamBigLiveSympl
Get Ahead In Your Career
Reach Your Fitness Goals
Make Progress On Your Dreams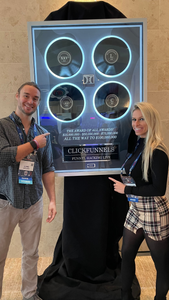 Finally Start That Side Hustle
F.A.Q.'s
Q: Does Wake Sympl Contain Sugar or artificial ingredients?
A: No, Wake Sympl does not contain sugar, Wake Sympl is sweetened with all-natural stevia and contains nothing artificial.

Q: Will Wake Sympl break my Fast?
A: No, with only 4 calories it will not break your fast and many people use it for this purpose.

Q: How much caffeine is in Wake Sympl?
A: 150mg per serving which is about the same as a cup of coffee. Caffeine lovers may prefer two scoops.

Q: Is Wake Sympl only for healthcare professionals?
A: While it was designed for healthcare workers anyone who has a demanding lifestyle will benefit from it.
Q: Can I drink Wake Sympl at other times throughout the day?
A: Yes, it can be used anytime you need to feel awake and alert. Perfect for mid day, before workouts, or before night shifts.