The Perfect Morning Routine
A simple to follow, powerful, 21-day course designed to increase your productivity, motivation, and energy to put you on the right track to success.
Guaranteed to help you make progress on your most important goals with a 100% Money Back Guarantee. We're serious about your success and we're confident by following these lessons you'll radically transform your mornings and your life.
-Luke & Sabrina Co-Founders
Transform Your Mornings
✅ Develop a Morning Routine that actually helps you make progress towards your goals
✅ ​Learn the top habits practiced by the worlds most successful people
✅ Never fall off track with each daily video being only 5-10 minutes this course is perfect for busy individuals
✅ Feel what its like to thrive as an early riser
What You'll Learn
Week 1
Day 1: Setting Yourself Up for Success
Day 2: Creating Clarity
Day 3: T-Chart
Day 4: Consistency
​Day 5: Community
Week 2
Day 6: Keeping Consistency
Day 7: Elevate Your State
Day 8: Grounding Moment
Day 9: Gratitude
​Day 10: Vitamins & Supplements
Week 3
Day 11: The 1-2-3- Formula
Day 12: Avoid Major Sleep Detractors
Day 13: The Hard Stop
Day 14: Deep Sleep Products & Apps
​Day 15: Staying Consistent & Keeping In Touch
This Course Includes
🕓 15 self-paced modules
▶️ Media-rich content (videos, images, text)
⬇️ Tons of free downloadable templates (easy to use)
📲 View on desktop and mobile
📈 Lifetime access (future versions)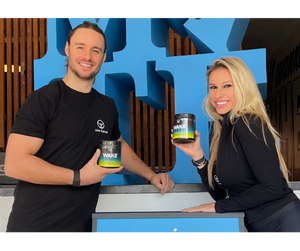 Instructor Credentials
Sabrina, Nurse Practitioner
Sabrina is an award winning health expert and will focus on long term sustainable habits that promote health and well being throughout your day.
Luke, 5x Inc. 5000 Founder
Luke is a seasoned entrepreneur and has used these exact teachings to scale businesses to over 40 Million in revenue and pursue his dream of stand up comedy.
⭐️⭐️⭐️⭐️⭐️
"I didn't realize how important having a morning routine was for getting my most important work done before the day even starts. The 5 minute daily lessons made it super easy to stay on track and didn't have any fluff. I've been able to stay consistent with my morning routine for 3 straight months now!"
Nancy T. - R.N.
⭐️⭐️⭐️⭐️⭐️
"As a work from home father with a toddler, being productive before my son wakes up is important. I decided to try this to see how it would affect my productivity in the mornings and I have to say wow! From the first day I tried it, I've felt really good in the mornings. I've been able to focus more than normal and get a good jump on my day."
Elliot B. - Father
⭐️⭐️⭐️⭐️⭐️
"Before this course my biggest struggle was controlling my mornings. That led to a constant feeling of being rushed and falling behind schedule... which in turn led to anxiety throughout the day. This course was the gentle push I needed to regain control of my mornings and life."
Jay F. - D.O. & Founder of Otter PR