Waking Up Early Is Hard. We Made it Sympl.
No Jitters. No Snooze. No Worries.
Become a Morning Person
Free Shipping. 45 Day Supply. 60 Day Money Back Guarantee.
✅ Crush Your To-Do List
✅ Eliminate Brain Fog
✅ Stop Procrastination
✅ Never Hit Snooze Again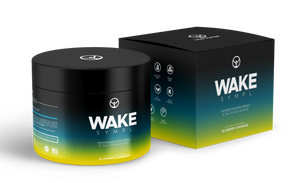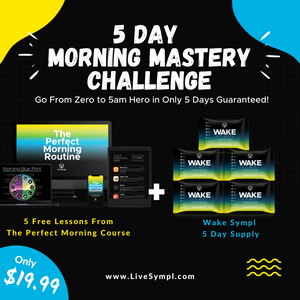 Transform Your Mornings. Transform Your Life.
Build the habit of waking up early and become an early riser in only 5 days!
No Will power required.
Transform your life in as little as 5 minutes a day for 5 days straight.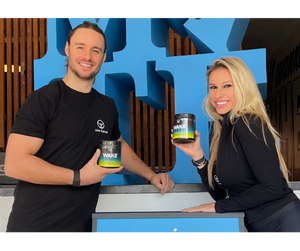 Meet Sabrina & Luke
Live Sympl was founded by a Nurse & Entrepreneur to make it easy for people living demanding lives to wake up early and conquer their days.
The Live Sympl Story
Luke and Sabrina, like so many others, have to wake up early but struggled with waking up early consistently and in no way considered themselves morning people so they were determined to find a way to make waking up early easy, natural, and sustainable.
After two years of rigorously reviewing case studies, testing formulas, and finding the perfect flavor they launched Wake Sympl.
Wake Sympl is an All-Natural Awakening Nootropic Formula you make the night before and enjoy first thing upon waking that gives you clean energy, electrolytes for hydration, and nootropics to boost your mood and focus so you can finally become a morning person and conquer your days!
While Wake Sympl is made for everyone, nurses and healthcare workers have a special place in our hearts and we're focusing on helping as many as we can!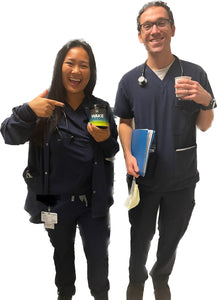 Calling All Nurses!
Become a Nurse Ambassador & get Free Wake Sympl to bring to the break room on your floor and share with your fellow nurses!

All-Natural Ingredients
Designed to be enjoyed by everyone regardless of your diet.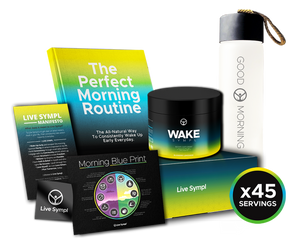 Hear Why People Love Wake Sympl!
⭐️⭐️⭐️⭐️⭐️
"This product works. Plain and simple. It's a nice welcome change from coffee which would make me jittery and lead to a midday crash. It's completely changed how I wake up in the morning. I drink a little in the morning and it keeps me going all day I don't have that mid day crash."
⭐️⭐️⭐️⭐️⭐️
"I love two things about this product. The first one is that it works! No jitters and I'm immediately awake to begin my morning ritual. The second is I get to plan my morning the night before by getting my wake sympl drink ready for the morning."
⭐️⭐️⭐️⭐️⭐️
"I was pleasantly surprised by the taste and effectiveness of this product."
Your Safety Is Our Top Priority
It's always best to talk with your doctor before you start taking a supplement, especially if you already take medications, have health concerns or are pregnant or breastfeeding. *The above statements have not been evaluated by the Food and Drug Administration. These products are not intended to diagnose, treat, cure, or prevent any disease.